Back in the 'old days' of the Internet, only some 20+ years ago, Clerical Plus designed websites with Microsoft FrontPage.  During that time, we had to worry about all kinds of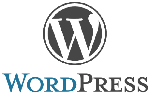 'web stuff', including: do our web pages work the same under different web browsers, did we use only 'browser safe' colors in our fonts and graphics, did we optimize our web pages and graphics so our pages load in under 5 seconds via a modem, do our pages lay out correctly at the 'lowest common denominator' monitor resolution, did we design each page layout so that it is clear and consistent, with a common look and feel.
Since Clerical Plus has changed their website development platform to WordPress, we no longer have to worry about any of the above items (although we still optimize images so pages now load in under 2 seconds).
Why did Clerical Plus choose WordPress as its website design tool?  Well, we knew that FrontPage was 'dead' since it has not had a new release since 2003.  So Clerical Plus started researching into what our next website development tool would be.  This included evaluating both paid and open source/free software packages.  Also weighted heavily in our final selection criteria was that the website tool needed to be easy to use and learn, so that once we completed a website, it could be turned over to the client, and at a minimum, their website content could be updated by the client without any costly 'help' from our 'webmaster'.  Very quickly into our investigation it became clear that WordPress was the best website design and implementation software solution on the market today.
So what is WordPress?  Well, as per its definition:
WordPress is a free and open source website development software tool, also known as a Content Management System (CMS), with excellent blogging capabilities.  It is based upon a 'plug-in' architecture and a template system.  Its most notable features are:

Themes which allow users to easily install and switch between over 5000 free (and countless more paid for) themes, thus allowing users to change the look and feel of their website without altering any of their informational content

Over 54,000 Plugins allow users to extend their website's functionality and capabilities beyond the features that come as part of its base install by simply installing the required new functionality, as needed

Over 7500 Widgets offer users a drag-and-drop interface to build their sidebar content and placement

It is 'mobile up-datable' as applications exist for all the major mobile devices to provide access to many of the features of WordPress, including updating a blog

Other features: integrated website link management; search engine-friendly code; clean permalink (URL) structure; the ability to assign multiple categories to blog posts and the support for tagging of posts
There were at least another 20 reasons why we selected WordPress, but for sake of brevity, here are our top 10:
WordPress is commonly called the easiest web development software to learn and maintain as it allows you to easily publish pages and blog posts, edit previously created pages, upload images and embed videos all with a 'Word-like' interface

once it's installed at your web hosting site, WordPress is open source, so it's free to use . . . any time, anywhere . . . since you interface with it over the web via a browser

WordPress gives you complete control over the content of your site without having to know any web development language like HTML, XHTML, JavaScript, PHP, CSS, SQL Anywhere, XML or RSS . . . which also eliminates the need to pay your webmaster every time you want to make a change or publish new content to your site
it is 'fast' and Search Engine Optimization (SEO) 'friendly' right 'out-of-the-box', and your website will be made even faster and more SEO friendly with the use of additional Plugins
all WordPress generated code is totally compliant with the most current standards of the W3C so your site is not only totally interoperability with today's browser, but also for compatible with the next generation browsers
you can easily share your pages or posts with all the major social media services: Digg, Facebook, LinkedIn, Reddit, StumbleUpon, Twitter and any other service you want

the  WordPress platform will allow your website to grow and expand as your organization does, thus you won't need to switch platforms in two years because you have outgrown your web development software

WordPress can support multiple web developers if need be, by letting you define different roles for your different developers by assigning update privileges accordingly

WordPress is the most used web development software in the world . . . with a total of over 100 million users . . . and over  445 million WordPress sites . . . with over 400 million people viewing more than 3 billion pages each month

WordPress is not only used by personal bloggers, but also by the 'big boys' like: Boing Boing, CBS RADIO, CNN, Intuit, NBC Sports, People, PlayStation, Tiffany's, UPS and the Wall Street Journal just to name a few
The only con Clerical Plus has with WordPress is that since it is free/open source, it is constantly changing every month with numerous updates. This includes updates to add new features and security enhancements to not only the base WordPress software, but also themes, plugins and widgets. With all of these 'good' updates, comes the fact that you must also update your WordPress website monthly to stay current with all the features, especially security enhancements.  Thus unfortunately, since testing has become so complicated with so many unique pieces of software, some of which are implemented by inexperienced software developers, there can be 'fatal' software conflicts at your site after applying updates. Thus you require an experienced WordPress website developer, who keeps current with all the various WordPress news, and is familiar with how to backup and restore a website, to perform your monthly maintenance.
However, even with this somewhat major con of constant updates, Clerical Plus still maintains that WordPress is the best, most flexible website development tool on the market (and it's free!) . . . and it will meet all of your business requirements today . . . and tomorrow.